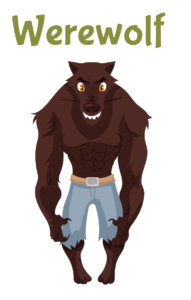 Few monsters are as scary and as iconic as the werewolf. Though the vampire may have him beat in popularity, there's something spooky about a monster that lives as a man most of the time, but who is doomed to cause chaos on others. If your child is interested in being a werewolf this year for Halloween, try out this simple DIY costume.
Creating The Clothes
A good werewolf costume needs to look rough and lived-in. Think of your favorite werewolf movie and how, when they change, their clothes often gets ripped or torn up as they rampage. Buy an old t-shirt and a pair of jeans, or dig up a pair of both, and make small rips up and down them that won't cause them to burst open.
Now, stain them with a little fake blood, especially near the collar of the shirt, in order to make it look more scary. This little suggestible detail will make the costume more convincing when your child goes out on the prowl.
Make sure to cover the holes in the shirt and pants with patches of decorative hair, as if your child's werewolf fur is coming out.
The Makeup Process
Start by using some hairspray to make your child's hair look wild. Common werewolf styles are rather angular or pointy, so it's not a bad idea to have them grow their hair out a little bit before Halloween in order to achieve the shape.
Now paint their nose black and put some black shadows under their mouth and eyes. Shade under the eyes with a brown makeup pencil and they will look suitable canine.
Make sure to add a little red around their mouth, as well, to make them look rather bloody. You should also stick on some false nails and stain them with blood, and use inexpensive "fang" teeth to give them a scary and dangerous-looking mouth. Stain the canine teeth with the fake blood to make them truly terrifying.
Other Extra Touches
A few other ideas you can integrate include a full wig, if you have one lying around your home. This simple wig can be more easily styled if your child doesn't have long hair.
Make sure it can strap down to your child's head in order to make it effective. You should also pencil in or use stage glue to hold three or four "whiskers" to the side of their face near their nose.
Try to practice a good howl with them before they go out for the night. Watch some old werewolf movies and bay along with the doomed wolf. This is not only a good way to get into character, but a fun and silly way to bond with your child.
While watching the movies, have your child practice prowling like a werewolf to add an even more authentic touch to their costume.
To simulate the nose a little better, you could take an old clown nose, trim down the sides a little to make it more appropriate in shape, paint it black, cut out "nostril" holes, and place it on your child's nose. It should be fairly square and squat and have a nice "V" shape in the front.
As you can see, this werewolf costume is simple enough for just about anyone to make. Why not try out this DIY costume and see what your child thinks? You might be surprised at just how much they love it, as it will set them apart from friends wearing more traditional store-bought costumes.